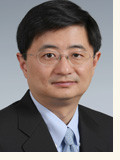 Phillip Y. Wu, CFA WG'95
Founder and Chief Executive Officer
Applied Strategy Limited
Speaker > Biography
Phillip Y. Wu is Founder & CEO of Applied Strategy Limited, a company which provides: consulting services to international enterprises for their business developments and operations in China and investment advices to Chinese investors. Mr. Wu has extensive experiences in investing in listed equities and venture capital investments in China and Hong Kong. He currently invests in Chinese and Global equities and Chinese start-up companies.
Before returning to Asia in 1997, he was a trader at Credit Suisse First Boston's Global Asset Trading desk in New York. From 1997 to 2002, he was Managing Director and a shareholder of Shanghai Sundial Investment Management Co., Ltd. in Shanghai and Capital Growth Investment Management Inc. in Hong Kong. From 2002 to 2006 he was Chief Financial Officer of Novel Investment Holdings (NIH), Hong Kong and Shanghai and is currently Advisor to the Chairman. NHI is a holding company with assets including Dragon Airline in Hong Kong, real estate development & investment in China, TV tube & optical instruments manufacturing, and department store retailing.
Mr. Wu has been a leader and pioneer in the modernization of the Chinese enterprise system and its financial markets. In 1993 he became the first CFA Charter Holder from Mainland China, and in 1998 was appointed the China Advisor of the Chartered Financial Analyst Institute. Mr. Wu is a member of the Asian Executive Board of the Wharton School, is Managing Director of the Wharton Shanghai Office and is President of the Wharton Alumni Club in Shanghai. He is a member of the Finance Committee of the Shanghai American School. Mr. Wu holds an MBA from The Wharton School and a BBA from the University of Houston.