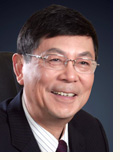 Wang Yi Min
Chairman
Orient Securities Company Limited
Shanghai
Speakers > Biography
Mr. Wang Yimin is the Chairman of China's Orient Securities Co. Ltd., as well as the Deputy Director of Securities Association of China (SAC). With 30 years of management experience in China's banking and securities sectors, Mr. Wang has long been dedicated to promoting China's financial reform in the global context through combining advanced western managerial experience with specific Chinese situation effectively.
Orient Securities, under the leadership of Chairman Wang since October 2004, has been recognized as one of the fastest growing securities companies in China with remarkable progress in innovative products and services. Prior to joining Orient Securities, Mr. Wang, as Vice President, contributed a lot in the establishment process at Shanghai Pudong Branch of China Construction Bank. While serving at Guotai Securities Co. Ltd, as Executive Board and Deputy General Manager, Mr Wang led the process of establishment of the company. He also great involved, as Chairman of Supervisory Board, in the merger process between Guotai Securities and Jun'an Securities.
Mr. Wang received his master degree from the Shanghai University of Finance and Economics, a MBA degree from China Europe International Business School (CEIBS), another MBA degree from Carey Business School of Arizona State University. Mr. Wang graduated from China's Tongji University with his Ph.D. in the major of Management Science. He also studied in Wharton School of the University of Pennsylvania as a visiting scholar.